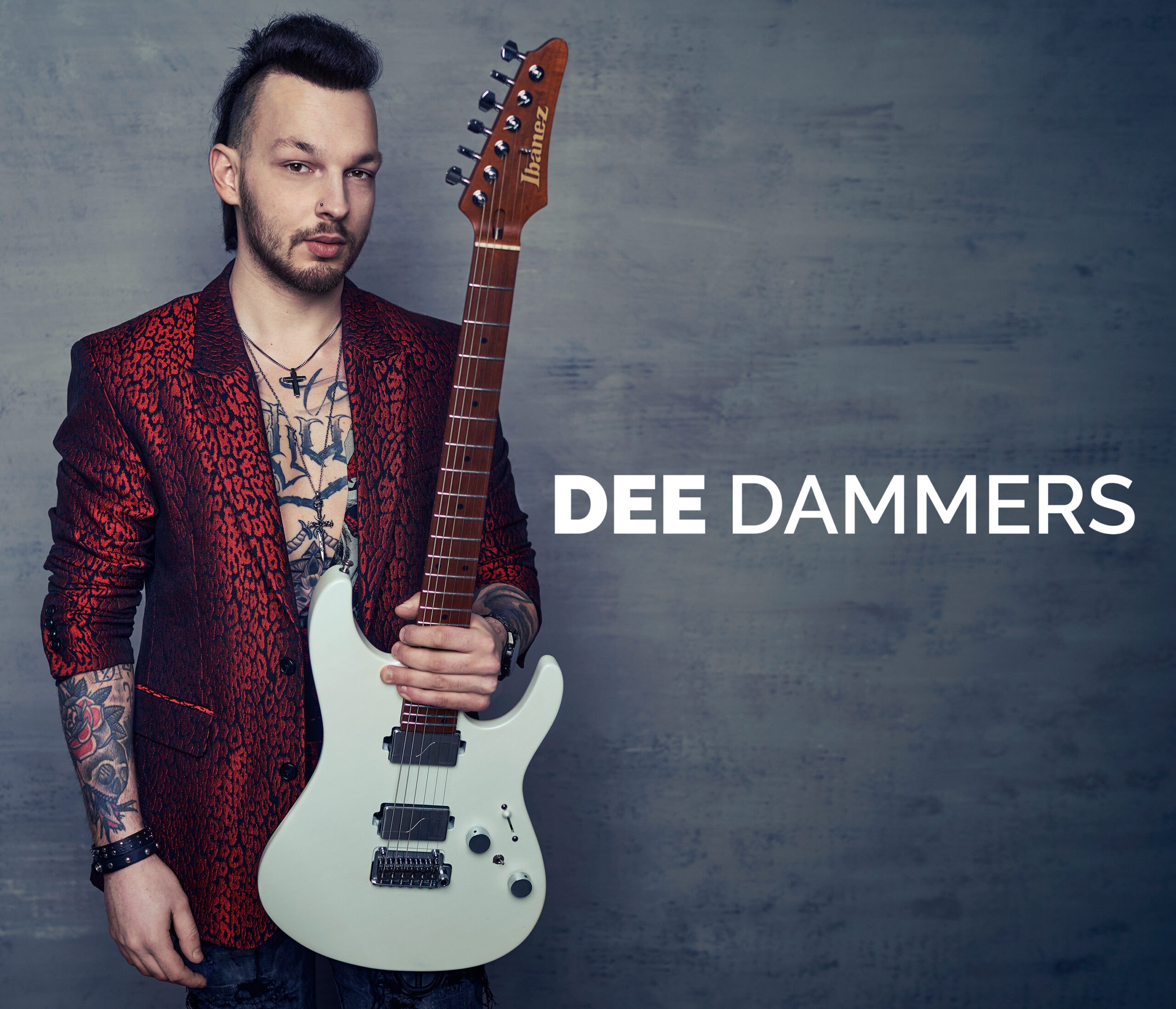 DEE DAMMERS DEBUT ALBUM
BUBBLY JOYRIDE TO UTOPIA
BUBBLY JOYRIDE TO UTOPIA is the first concept album of Fabian Dee Dammers, guitarist of Udo Dirkschneider´s U.D.O.
The album was recorded by Robert Söhngen (drums), Leon Dombrowski (bass), Phil Schwerhoff (piano), Melissa Tendick (violin) und Fabian Dee Dammers (guitar, keys) and was mixed and mastered by Manuel Cohnen.
The album ´Bubbly Joyride to Utopia´ was released on the 29th of March 2020 and financed due to a successful crowdfunding campain.
German guitar magazine GITARRE & BASS awarded ´Bubbly Joyride to Utopia´ to their album of the month (May ´20).
The Book
More information
´The Complete Guitar Transcription´ includes all tabs for the album ´Bubbly Joyride to Utopia´.
THE COMPLETE GUITAR TRANSCRIPTION
SHIRTS &
TANKS
More information
Join the ´Just Wanna Play´#WorldDomination.
JUST WANNA PLAY
ABOUT DEE DAMMERS
Fabian Dee Dammers ('92) is a German guitarist, composer and producer, best known as the guitarist for Udo Dirkschneider's U.D.O & DIRKSCHNEIDER.
After founding pop/metal band ´DIRTY D'SIRE´, Dee Dammers produced 2 cd's [HURRICANE & WE OWN THE NIGHT], hitting more than one million listeners in the first year and reaching the Spotify viral charts.
Dee played the guitar for lots of band, e.g. UK classic rock band ´The Treatment´, toured with bands such as Aerosmith, Scorpions or Alter Bridge and performed at major festivals, like Soundwave (AU), Rock am Ring (GER) or Download (UK) and many more.
Since 2018, Dee Dammers is a full-time member for Udo Dirkschneider´s U.D.O. & DIRKSCHNEIDER and is touring all around the globe. On July 17th, the first full-length album ´We Are One´ has been released for which Dee composed songs and recorded guitars. The album entered the official german charts at position #8. Currently the band is already working on the next album release for 2021.
In March 2020, Dee released his debut album called ´Bubbly Joyride to Utopia´ and founded the ´Dee Dammers Band´, an instrumental trio featuring Fabian Michaelis (Sondaschule) on drums and Leon Dombrowski on bass.
Dee is endorsed by:
Picture by Alexandra Gordeeva
LESSONS
I started a YouTube Project at the end of 2018, covering my favorite instrumental guitar songs. Check out my YouTube page to watch all the videos and download tabs & jamtracks.
STAY UP TO DATE!
Stay updated about my debut album! Sign up for free, no spam and maximum one email per week.